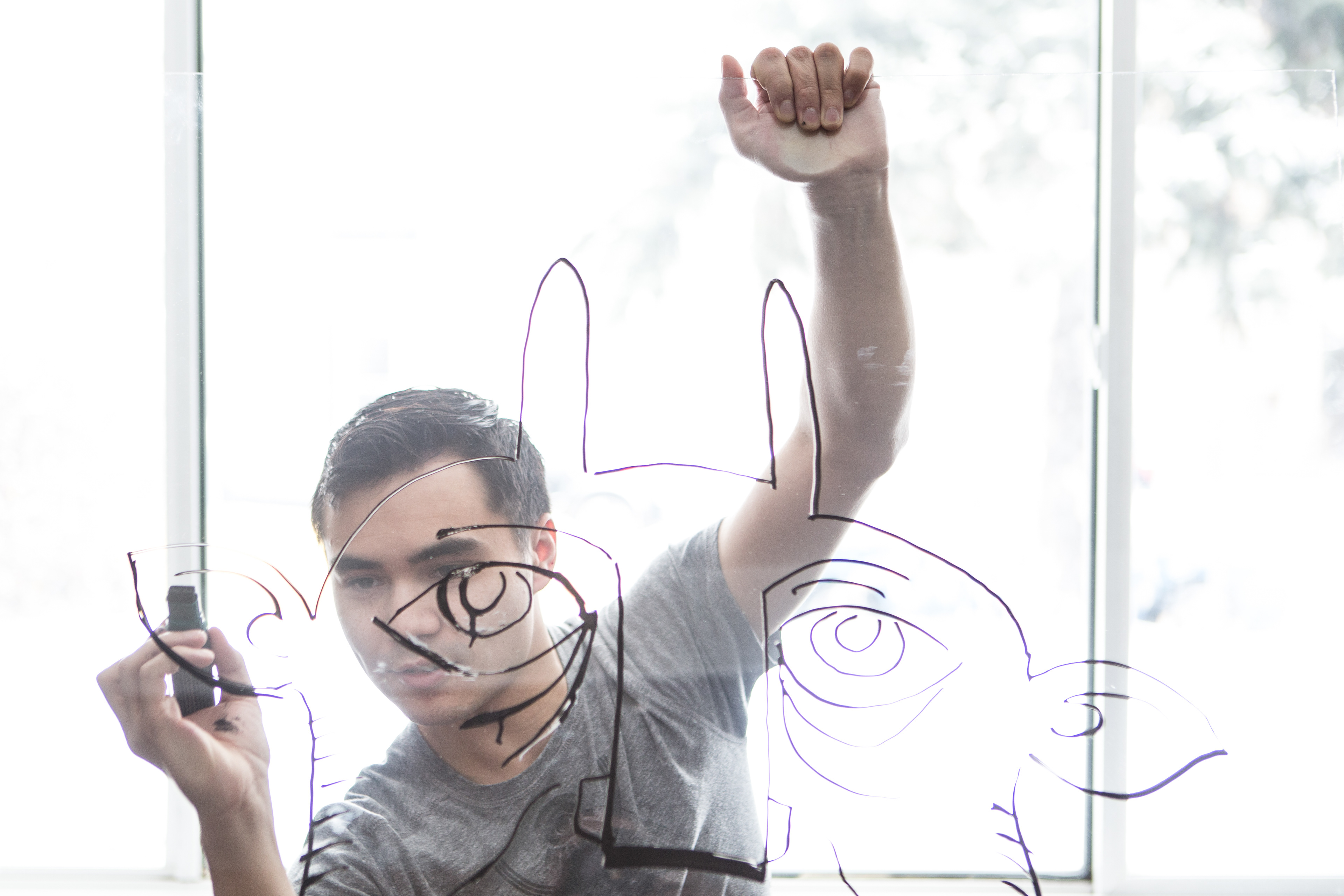 photo by Alex Ramadan for Swerve Magazine
I am a Chinese-German-Polish mixed media artist based in Calgary, Alberta. I have a BFA from the University of Lethbridge's New Media program. Moving back to Calgary upon graduation, this is where I continue to create artwork.
My illustrations delve deep into the fantastical, charming critters and misunderstood monsters inhabit dreamlike environments and surreal cityscapes. My illustrations mix ink and digital mediums, and as an animator, these illustrations are often given life within video. I have created artwork for a wide variety of projects including, album covers, gig posters, band merch, editorial illustrations, magazine covers, music festival promo material, film festival promo, theatre productions, public art installations and more.
I grew up watching cartoons and eating grilled cheese sandwiches, things I still enjoy to this day. Back then skateboard graphics, Jim Henson Muppets, Calvin and Hobbes, and hip hop all came together to help mold the direction my art would take. I'm strongly influenced by music, and have had the opportunity to expand upon my love of music and animation within various music video projects. In past years videos I have been involved with have been nominated for awards including a Juno Award for Best Video of the Year, a Much Music Video Award nomination for Rock Music Video of the Year, and a Much Music Video Award nomination for Best Post-Production in a Video. In 2016 I was selected as 1 of 12 Canadian artists to appear on season 2 of CBC's Crash Gallery which aired in early 2017. Currently I'm also an active member on the QuickDraw Animation Society board of directors. Recently my work was widely seen throughout Calgary when I provided the illustration elements for the 39th annual Calgary Folk Music Festival.
Some clients include:
Saucony
Sony Music Entertainment 
Warner Bros Records 
Universal Music Group 
University of Calgary
Polaris Music Prize
The Believer Magazine
BIG Winter Classic
Beakerhead 
Calgary Folk Music Festival 
Circle Festival
West Jet
Brita
Westwood Records
604 Records
Republic Records 
Columbia Records 
The Calgary Underground Film Festival
Sled Island 
FFWD Weekly 
CJSW 90.9 FM 
CKXU 88.3 FM 
Last Gang Records 
Hollywood Records 
Paper Bag Records 
Creative Control 
BeatRoute Magazine
FREQ Magazine 
Village Brewery